Hi! I'm Kyla! I blog over at Funky PolkaDot Giraffe and I'm here sharing some tips for keeping boys reading during the summer.
I'm the mom of a boy and a former 2nd grade teacher, so I'm right there in the trenches with you moms trying to find the niche that will grow my boy into a book lover and lifelong learner.
Is it easy? NO!
But can we do it? YES!
Probably THE biggest factor in getting boys reading is INTEREST!!! If a boy isn't interested in a particular topic/subject/genre it is really hard to get them to read. So, you have to provide them with books they are interested in. Author and educator John Scieszka said at the 2008 IRA Conference, "If your son loves shark book, let him read shark books for five months. That's all right – it's reading." It's true! My son LOVES animals. He lives for animals. So do we have what feels like a bajillion animal books in our house? Why, yes, yes we do. We're going on 7 years strong of animal books.
So what do boys like? In general, boys like to read:
•  books that reflect how they view themselves and what they aspire to be and to do
•  books that make them laugh and appeal to their sense of mischief
•  fiction, but preferably fiction that focuses on action more than emotion
•  books in series because they provide a sense of familiarity and comfort
•  science fiction or fantasy
•  newspapers, magazines, comic books, baseball cards
What does all of that mean for moms of boys? It means we have to know our boys and what they like. Take them to the library and set them free. Try a lot of different genres – nonfiction, informational, humor, graphic novels, magazines, how-to, online, audiobooks – and see which they seem to click with.
When my son was younger we subscribed to the National Wildlife Federation's magazine "Your Big Backyard" (it's now called Ranger Rick Jr.),and he loved it! He couldn't read them because he was 2 and 3, but it introduced him to the genre of magazines with a topic he was passionate about. Right now he loves the Marvel Super Heroes Magazine. We won a subscription from Patti at Living Mi Vida Loca and he has loved everyone of them. It helped him to branch out into a different topic, while still continuing with a genre of reading that was familiar to him.
When I first started teaching 2nd grade I was adamantly against a certain series that had to do with a superhero in his underwear. Why? Because I thought it was stupid and rude. However, I quickly learned that if I wanted the boys to read I had to have books like Captain Underpants and SpongeBob SquarePants – even if I thought the characters were weird.
I would also motivate and REWARD! If your son thrives on screen time, then give him 1 minute of screen time for every 10 pages reads. If he's a Lego nut, then set up a punch card system where every 10 pages equals one punch and 30 punches earns him a new Lego set. My son loves the zoo, so we read for trips to the zoo and other animal adventures.
Do fun things involving books. Give them double points for reading to a younger sibling. Do what works for you and your boy! That is my best advice.
Here are some of my recommendations of books for boys. Good luck and remember to READ, READ, READ!
First Grade
Don't Let the Pigeon Drive the Bus
Cars and Trucks and Things That Go
Chester's Way
Ira Sleeps Over
The Stinky Cheese Man and Other Fairly Stupid Tales
Danny and the Dinosaur
Frog and Toad Series
Parts
Dog Breath!: The Horrible Trouble with Hally Tosis
Where the Wild Things Are
*A note about 1st grade books. Most are meant to be adult directed -meaning read aloud or with the child. A lot of picture books have a high Lexile score that makes them difficult for young readers independently, even though the subject matter is interesting to them.
Second Grade
Nate the Great
Magic Treehouse Series
A to Z Mysteries
Geronimo Stilton
Sideways Stories from Wayside School
Bailey School Kids Series
Flat Stanley
Horrible Harry Series
Goosebumps Series
Dumb Bunnies
Third Grade
Captain Underpants
Encyclopedia Brown
Grossology: The Science of Really Gross Things
Spiderwick Chronicles
Shredderman
Animorphs Series
Bunnicula
Superfudge
How to Eat Fried Worms
Fourth Grade
Candy Shop Wars
Holes
Lunch Lady and the Cyborg Substitute
Tales of a Fourth Grade Nothing
Hank the Cowdog Series
The Mouse and the Motorcycle
Frindle
The Pendragon Series
The Indian in the Cupboard
Ghosthunters Series
Fifth Grade
Percy Jackson and the Olympians
Harry Potter
Brixton Brothers Series
Scary Stories to Tell in the Dark
Stuart Little
There's  Boy in the Girls' Bathroom
Fablehaven
Odd and the Frost Giants
Eragon
Sixth Grade
Diary of a Wimpy Kid
A Series of Unfortunate Events
The Adventures of Tintin
The Strange Case of Origami Yoda
Artemis Fowl
Al Capone Does My Shirts
Missing on Superstition Mountain
Dragon Castle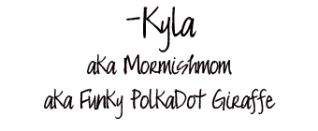 Thank you Kyla for sharing this awesome reading list with 
The Rockin' Boys Club
! We hope that all of our readers head over to
The Funky Polka Dot Giraffe
 and check out all that you have to offer.